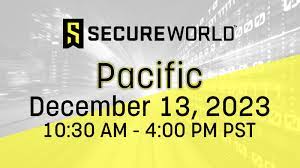 Secure World Pacific Virtual Conference
December 13, 2023 | 8:30 AM to 3 PM Pacific Time | Secure World Virtual
Secure World events and programming foster Growth, Access, and Excellence among cybersecurity professionals.
Secure World is… the stepping stone to grow in your abilities and career path
Secure World is… access to the knowledge and solutions you need, in the place you live
Secure World is… a unique experience with excellence in both speakers and content
For more than 22 years, Secure World has been tackling global cybersecurity issues and sharing critical knowledge and tools needed to protect against ever-evolving threats. Through our network of industry experts, thought leaders, practitioners, and solution providers, we collaborate to produce leading-edge, relevant content.
We host in-person conferences across North America, executive roundtable dinners, and virtual conferences focused on industry verticals and regions, and publish original news and analysis of the InfoSec world. We hope you'll consider becoming part of our community!
Connecting, informing, and developing leaders in cybersecurity.
Related Events