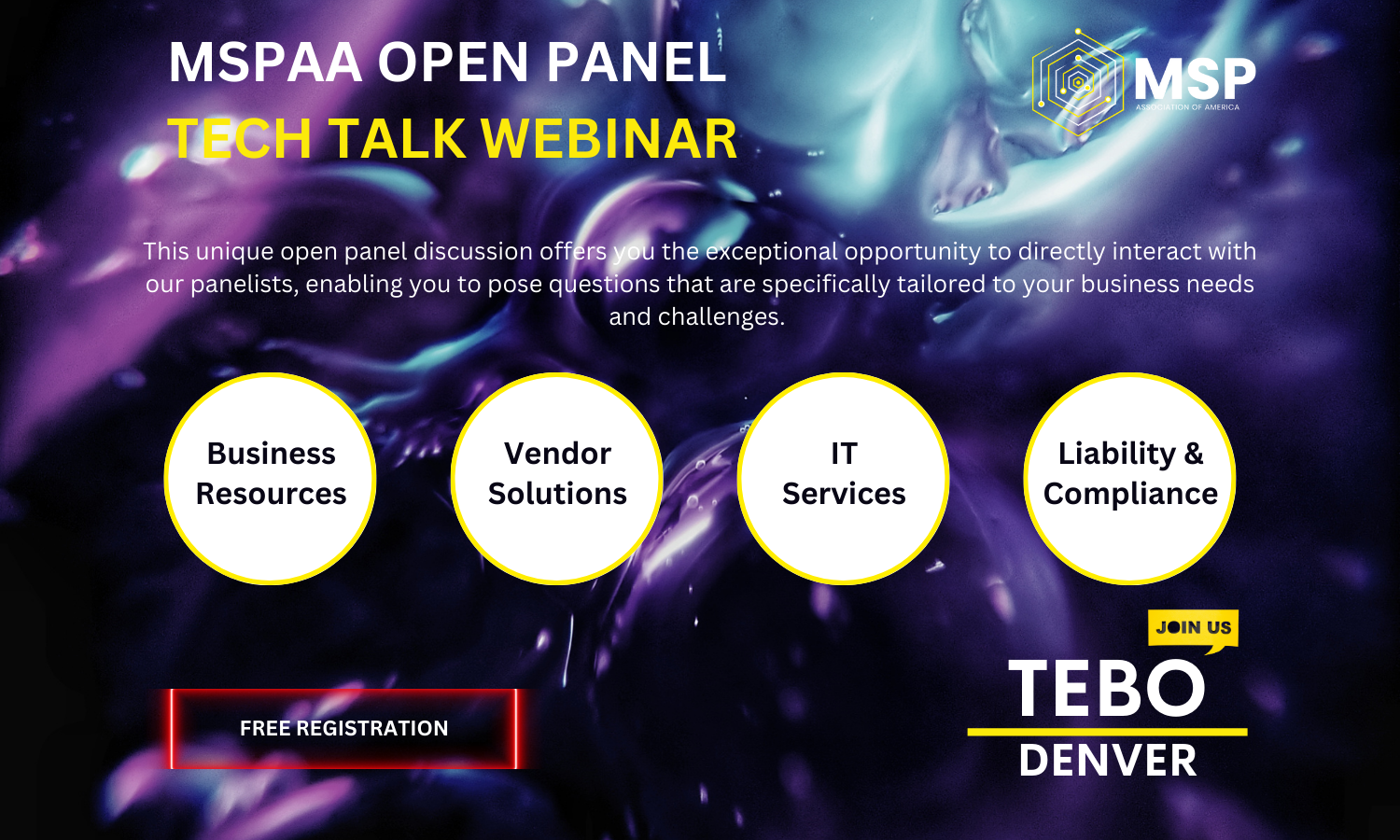 Open Panel Business Tech Talk
January 9, 2024 @ 1:00 pm
-
1:45 pm
Open Panel Business Tech Talk
Presented by: MSPAA
We cordially invite you to join our esteemed Open Panel Tech Talk, an event hosted by the MSPAA (Managed Service Providers Association of America) and presented by our distinguished panel of experts specializing in various domains, including vendor resources, IT services, business operations, and liability and compliance.
This unique open panel discussion offers you the exceptional opportunity to directly interact with our panelists, enabling you to pose questions that are specifically tailored to your business needs and challenges. Each panelist brings valuable insights derived from their expertise and experience with real-world client scenarios, ensuring you gain diverse and accurate perspectives.
Should you seek to gain profound insights into enhancing your business operations or resolving specific issues, our expert panel is well-equipped to address your inquiries.
Furthermore, we are delighted to announce that, at the culmination of the webinar, the MSPAA will conduct a giveaway of a coveted full-access pass to our upcoming Technology Enhanced Business Operations conference, scheduled to take place in Denver later this year.
Participating in this conference promises to be an exceptional opportunity for networking, learning, and acquiring cutting-edge strategies to propel your business to new heights.
Don't miss this chance to engage with industry leaders and take your business to the next level.
Secure your spot now by registering for the Open Panel Tech Talk.
Speakers Bio:
Our speakers are experts in each area of their business operations.
Related Events