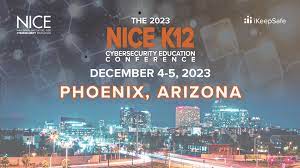 NICE K12 Cyber Security Education Conf
In its ninth year, the NICE K12 Cyber security Education Conference has gathered the most dynamic and innovative cybersecurity education leaders and professionals from across the US for an intensive, highly collaborative exploration to promote the discovery of cybersecurity careers and multiple pathways, identify methods to transform learning, and much more.
NICE K12 is known to cybersecurity-related educators and educational stakeholders as THE best place to engage with the thought leaders and pioneers leading the charge in classrooms, schools, districts, and regional and statewide cybersecurity education programs. NICE K12 is THE national hub for providing resources in innovative teaching and learning for K12 educators to inspire their students to be the future cybersecurity workforce.
Related Events