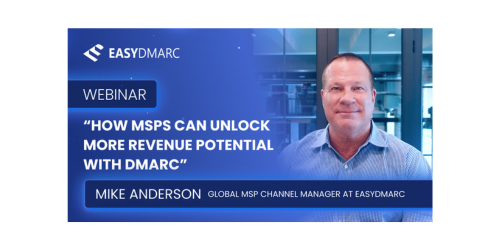 EasyDMARC Webinar
December 7 @ 12:00 pm
-
12:45 pm
How MSPs Can Unlock More Revenue Potential with DMARC
Presented by: EasyDMARC
MSPs unlock new revenue streams by delivering a comprehensive DMARC solution to their clients. This is easy and quickly available for MSPs to implement. DMARC is in high demand among SMBs seeking to boost their email deliverability and protect their email ecosystem from phishing attacks and email spoofing.
During the webinar, we will discuss how to build a revenue-driven DMARC strategy and leverage it to increase customer loyalty.
– Quick introduction to DMARC (Domain-based Message Authentication, Reporting, and Conformance). Its market demand
– Building a Revenue-Driven DMARC Strategy
– Leveraging DMARC as a value-added service to increase customer loyalty
– Streamlining DMARC implementation processes for MSPs: Visibility, command, and control
– Case studies showcasing successful MSPs monetizing DMARC
– Live Q&A session with DMARC experts
Speakers Bio:
Mike Anderson is an expert at implementing start-up marketing and sales campaigns that generate leads consistently into an enterprise business. He is an expert in solving critical and complex technology challenges for enterprise-level business verticals such as technology, SaaS, and Outsourcing.
During his career, Mike has achieved multiple 10 Million dollar plus outsourcing deals such as cloud infrastructure, managed print services, and infrastructure as a service offering. These deals included very complex and detailed planning cycles to close and execute.
Additionally, Mike has executed many million-dollar-plus consulting deals with extended complexities and collaboration
Related Events