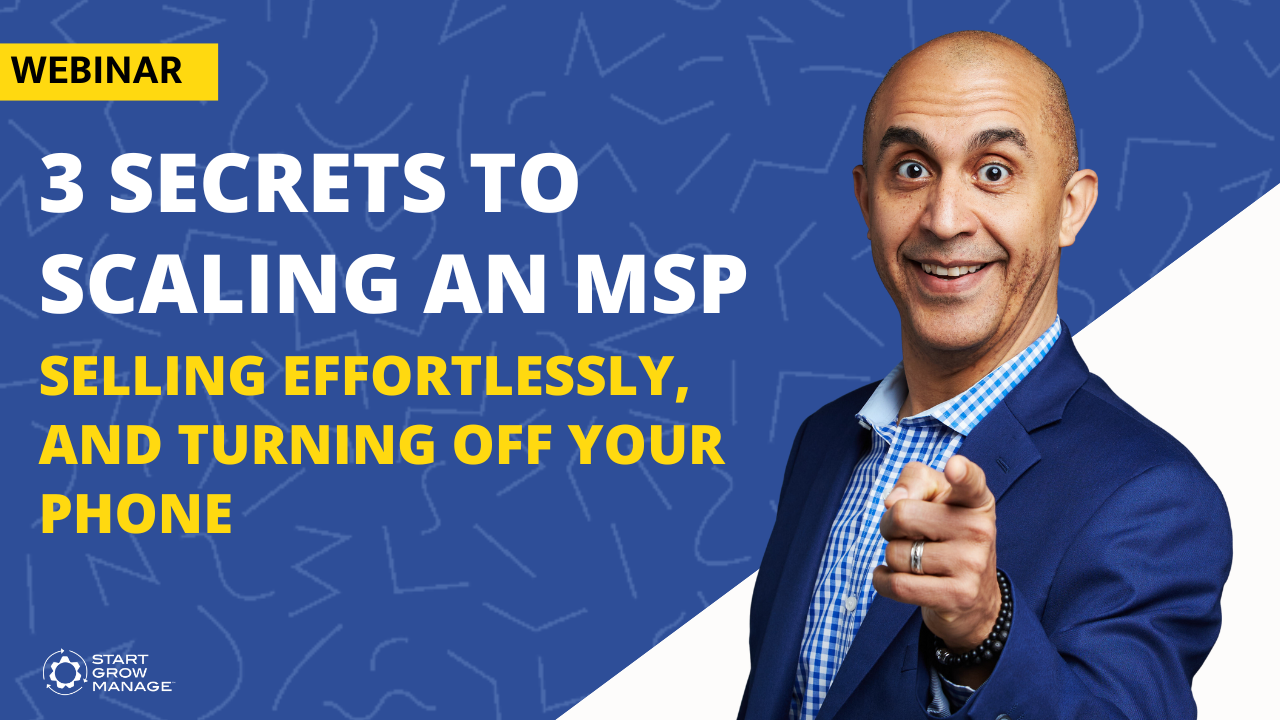 3 Secrets to Scaling an MSP
January 18, 2024 @ 12:00 pm
-
12:45 pm
3 Secrets to Scaling an MSP, Selling Effortlessly, and Turning Off Your Phone
Presented by: StartGrowManage
Share a simple tool from the Cialdini Institute that increases performance by 700%.
Review the top concerns of MSPs based on our survey of the market: this is what others say they are struggling with.
We will address why MSPs struggle: there are simple reasons that relate directly to how industries mature – we can take lessons from these reasons and apply them to the MSP world.
Then, introduce the 3 things that MSPs must do to get 30 new clients in 365 days.

Develop strategies for MSPs to put in place to implement these three things in this we cover:

How to create an unassailable competitive advantage rather than compete on price.
How to make yourself indispensable rather than an annoyance.
Talk about how they listen so that you can become a trusted partner.

We explain the next steps to implementing the strategies that you will need to succeed.

Then give you the next steps to take to get $1 million in new revenue.
Speakers Bio:
Joe is co-founder and COO of Start Grow Manage, based in New York, and the author of How Entrepreneurs Thrive.
He empowers Managed Service Providers / Entrepreneurs to overcome the challenges of business formation to create profitable, growing businesses. ​
​
As a serial entrepreneur himself, he has faced the challenge of making new and growing businesses work.
His career started in the military, where he became an expert in information technology, eventually forming his own managed services company. Through that experience, he discovered the formula for businesses and learned that entrepreneurs are good at what they do but struggle to build a business.
Related Events